Brookhaven officer dons beekeeper's veil, 'apprehends' swarm | News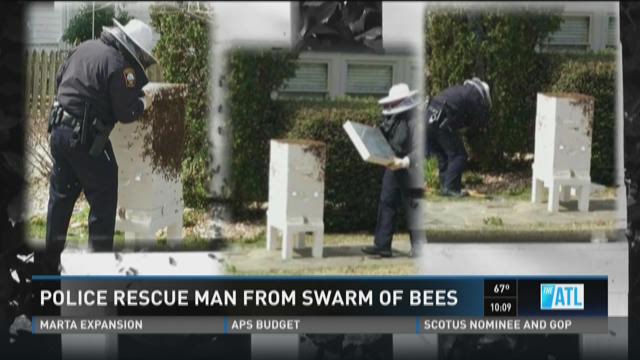 BROOKHAVEN, Ga. -- A Brookhaven homeowner is recovering and thousands of bees are "in custody" after an unusual incident Wednesday afternoon.
Brookhaven police and emergency personnel responded to a home in Lynwood Park on Wednesday where they found a man had apparently broken his leg after a fall while trying to catch a swarm of bees.
Lt. Jeff Vanaman said the man was covered in bees when he arrived.
"And I heard him say 'I snapped my leg in two, I've broken both bones,'" he said.
The homeowner was taken to an area hospital for his injury.
But there was still one problem at hand – the bees.
So Lt. Vanaman picked up where the homeowner left off – putting on the homeowner's beekeeper veil and helping catch them.
"It didn't bother me," he said. "I felt fairly comfortable going into the bees because I new what to expect."
Fortunately Lt. Vanaman is a beekeeper himself. He said fellow officer Cpl. Jake Kissel got him into beekeeping last year.
Vanaman and Kissel lifted the hive and carried it from the neighbors yard back to the homeowner late Wednesday afternoon.
Oddly enough, it's not the department's first run-in with assailants of the flying variety.
In 2014, Brookhaven officer John Ritch and his canine partner Grizz were pursuing a suspect through the woods when they came upon a swarm of yellow jackets - predatory wasps common to the area. "I couldn't breathe, it felt like I had 500 pounds sitting on my chest," Ofc. Ritch said at the time. Both he and Grizz returned to work after the incident.
Lt. Vanaman responded to that seen too.
"As he was coming out of the woods I helped him over the fence and I was actually swatting and shoveling the yellow jackets off of him," Vanaman said. 
VIDEO: Officials move the bee hive